We know dental IT services. That's because it's our exclusive focus as a dental IT company. Whether you're a solo provider or part of a multi-office group, we use our expertise in dental IT services to customize a dental technology roadmap for your practice.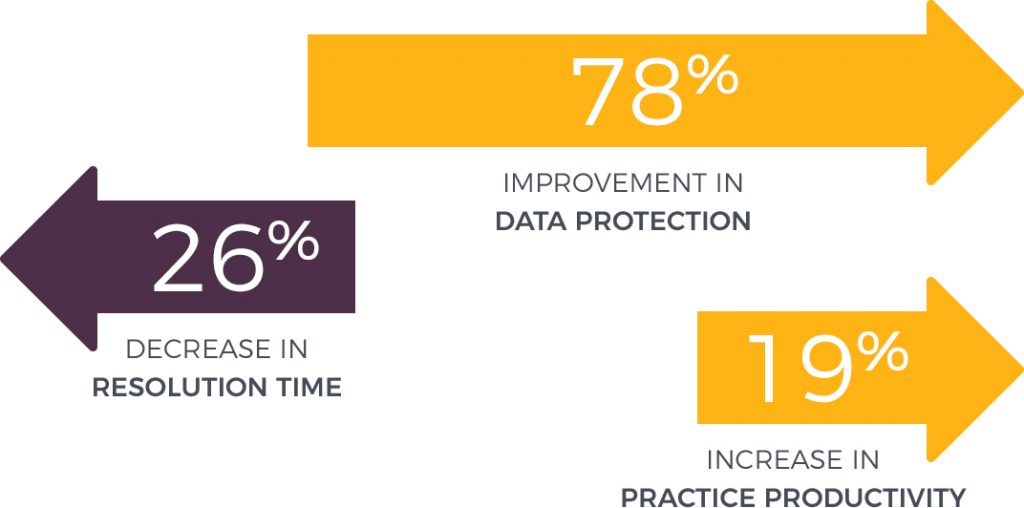 That's because we provide unlimited IT support through our Onyx partnerships, giving you the support you need when you need it.
And, we offer industry-leading cybersecurity assessments that help you uncover the hidden vulnerabilities of automated cybersecurity assessments from other dental IT companies miss. That helps you better protect patient data for HIPAA compliance.
Get the Complimentary
Medix Dental IT Cybersecurity Assessment
Our industry-leading dental IT cybersecurity and HIPAA compliance assessment are designed to catch security vulnerabilities other dental IT firms miss. We examine your security, systems, and procedures, giving you guidance on:
Risks associated with your practice IT setup
Practice data protection and vulnerabilities
Data backup and recovery
Missing security software or Windows updates
Downtime reduction
HIPAA compliance in relation to IT
And more!
We'll work together to review your security practices. After completing your cyber and HIPAA security assessment, we'll meet with you to review the results for improving your dental IT security and practices.
What sets Medix Dental IT apart from other providers?
Drama-Free IT
When services are down, it's more than a pain. It can affect patient care and increase employee stress. That's why, when IT services are down, our service team responds quickly, resolving issues as soon as possible. Reduced downtime means fewer headaches for you and your team.
Practice-Level Personalization
Dental IT is not one-size-fits-all. Every practice is different. Our team will work with you to build a personalized IT roadmap that fits your needs, budget, and timeline.
Protecting Dental Data Like It's Our Own
Cyberattacks and HIPAA violations are costly. Legal fees. Fines. Patient loss. The average cost of a data breach is $380 per patient. That's equivalent to $760,000 for a 2,000-patient practice. At Medix Dental IT, we know the risk you face. That's why we protect your data like it's our own.
Specialists in Dental IT
Because Medix Dental IT works only with dental providers, we know dentistry. We use that dental expertise when working with you to develop a roadmap for your practice's IT infrastructure and in mitigating IT vendor issues.
Questions? Contact us!