Prompt, personalized practice support
Keeping a pulse on all your group practice locations can leave you wondering what you can check off your to-do list. How about crossing off all your dental practice IT tasks? After all, managing the same IT issues across numerous workstations, coordinating system updates in multiple group dental practices and spending valuable time integrating your technology among practices can be challenging. Whether you are a dental provider or practice administrator, juggling IT among myriad other duties can cause costs to add up quickly.
Enter Medix Dental IT. We'll take care of your system updates, proactively address IT issues, integrate technology across offices and project manage your dental practice IT. We're here to keep your technology running efficiently so you can focus on patient care without worrying patient data is at risk.
Practices report a 19% increase in practice productivity after switching to Medix Dental IT.
We Understand the IT Needs of Group Practices
Because we work only with dental practices, we understand the IT needs for practices of all sizes. Our hassle-free dental practice IT services and support allow your team to spend more time on what matters most—dentistry. You'll save time and resources by streamlining technology across multiple locations and cutting down on inefficiencies.
As a group dental practice, Medix Dental IT provides a wide range of services to support your practice's multiple locations, including:
Protecting Practice Data Like Our Own
As an IT partner who works exclusively in the dental industry, we can help you identify and address security vulnerabilities other IT providers may overlook. From ensuring back-ups are encrypted and secure, to testing firewall adequacy, installing and updating anti-virus and malware protection software to patching hardware and software security vulnerabilities, our primary goal is to help you keep your group dental practice operating smoothly and your patient data secure.
Because group practices typically manage a larger volume of patients, the risks associated with a patient data breach are far greater.
The average cost to recover from a security breach is $760,000 for a 2,000-patient practice, according to an IBM-commission report.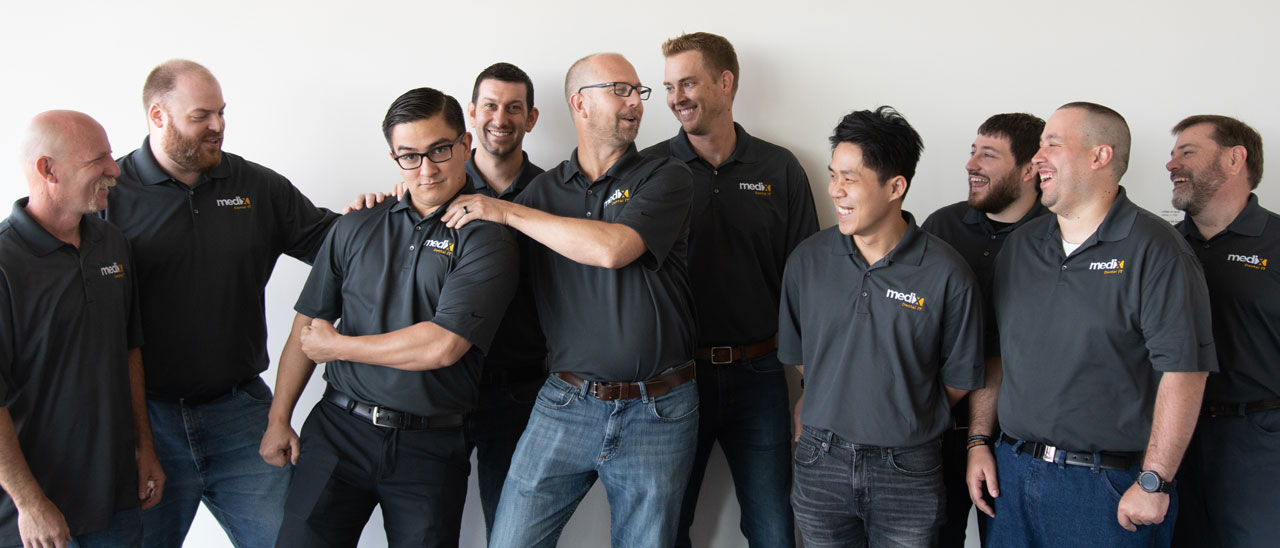 Stay Protected with an Onyx Partnership
Worried that IT maintenance will wreak havoc on your group practice IT budget? Fear no more. We designed the Onyx Partnerships to maximize group practice success while turning IT spend into a predictable line item for which you can budget.
For one monthly fee, Onyx partners receive:
Priority, unlimited remote support
Practice Armor® IT security services
Secure local and cloud data backup
Vendor issue mitigation
Installation discounts
Staff cybersecurity training
Practice management and imaging software updates
HIPAA IT compliance assistance
Technology investment planning
To protect your group practice and manage your IT budget, upgrade your dental practice IT to an Onyx Partnership.
Dental Practice IT Built for Group Practices
Protect your group practice and grow your business with Medix Dental IT services. To learn more about our prompt, friendly IT services for Onyx partners, call (877) 885-1010 or contact us today!